Announcements
Local Group & AA News
April 1st Crazy Costume Party
Join the costume party April 1st with DJ Anonymous. See flyer for details.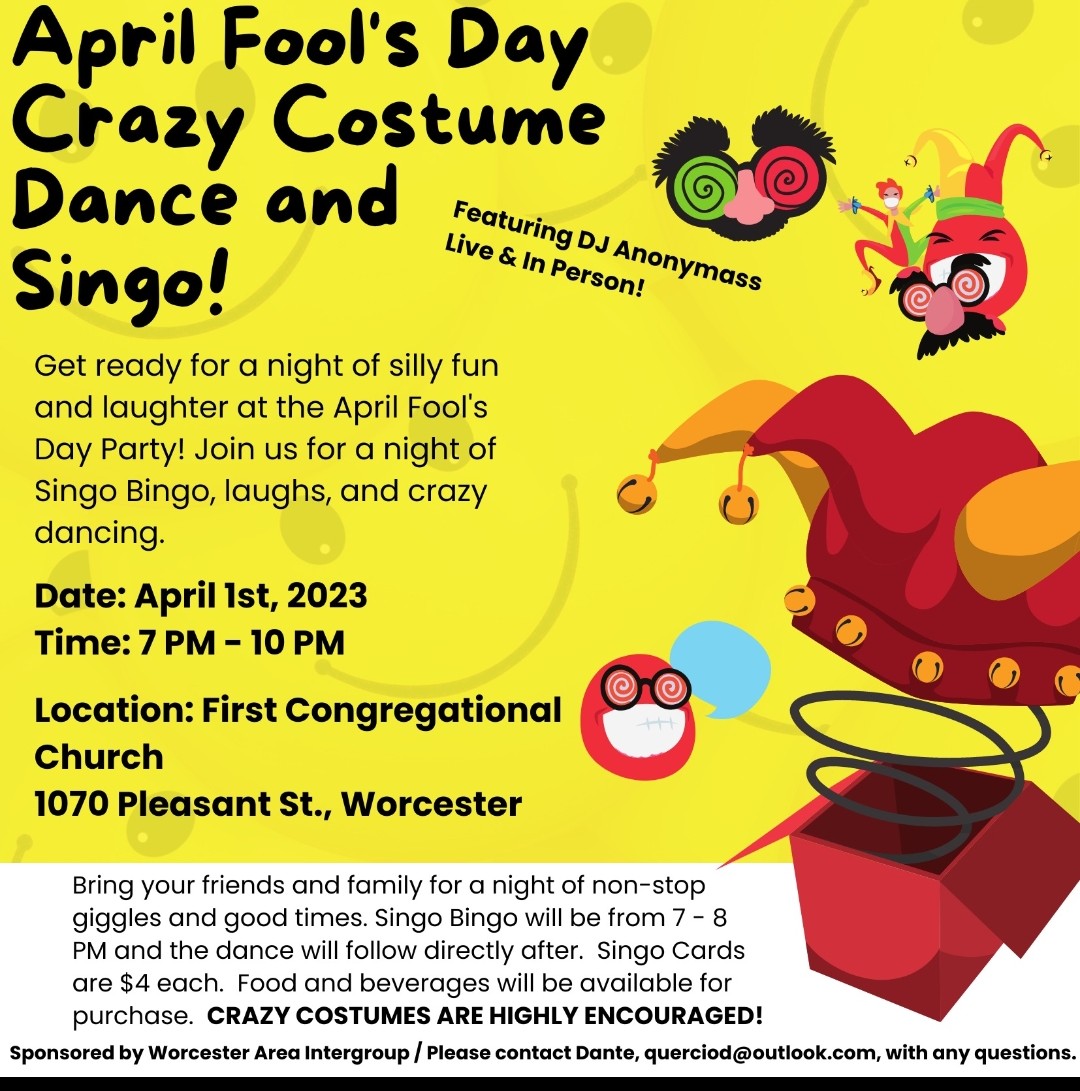 May 27 Gardner Saturday Night 50th
Holy Rosary Church, 135 Nichols St. Coffee 6pm, Food 6:30 pm - Speakers 7:30pm. ... click here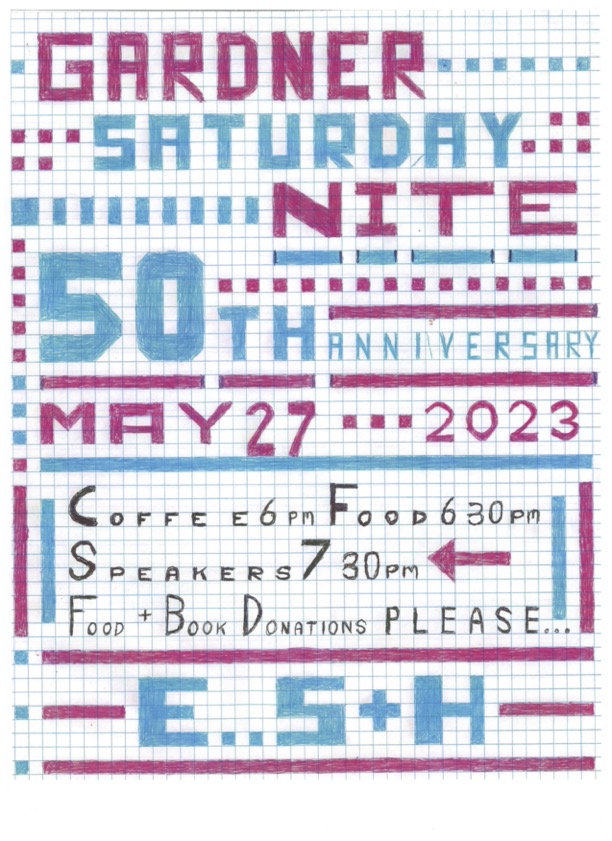 FOB Men's Camping Trip
The Tuesday Friends of Bill men's group in Worcester is hosting a camping trip and visit to the Wilson House June 8-11. See flyer for details.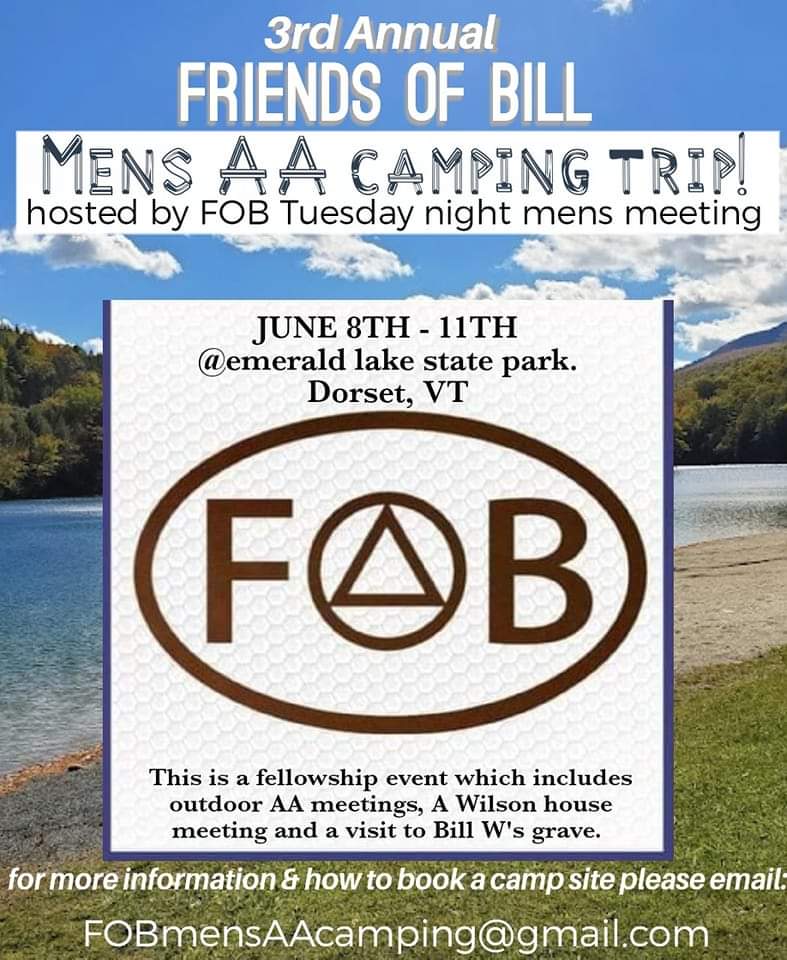 Area | District News
Sun Mar 26 Area Assembly
Area 30 preconference assembly hosted by District 21. For details see the flyer.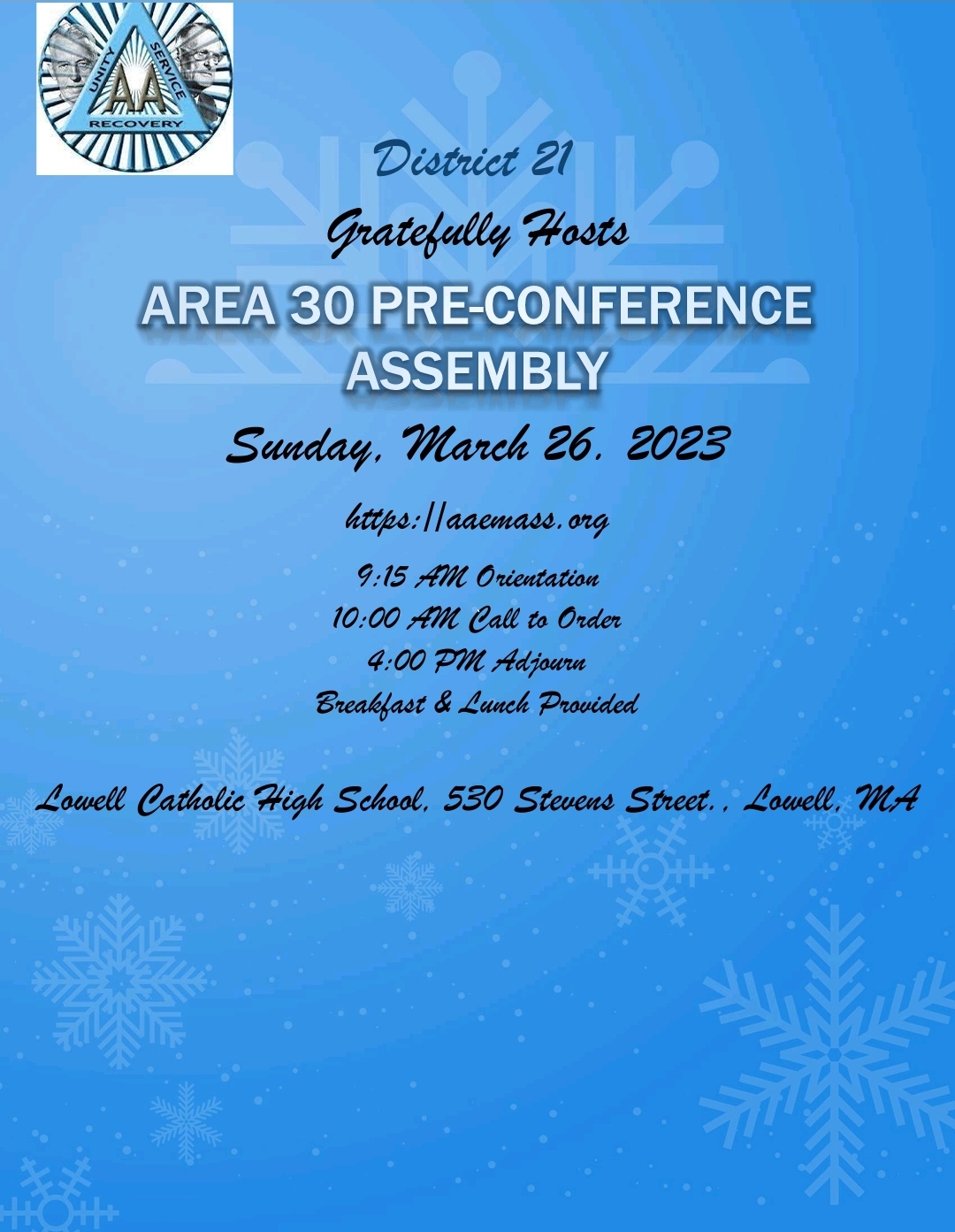 Tue Apr 4 Cluster Meeting
Cluster meeting: Tuesday April 4 7:30 pm, Area 30 Delegate to discuss agenda items of the upcoming General Service Conference (shown here).

In-person:
Salem Covenant church
215 Mountain St E Worcester MA

On Zoom:
Web link: zoom.us/j/311969752
Password: Sober2020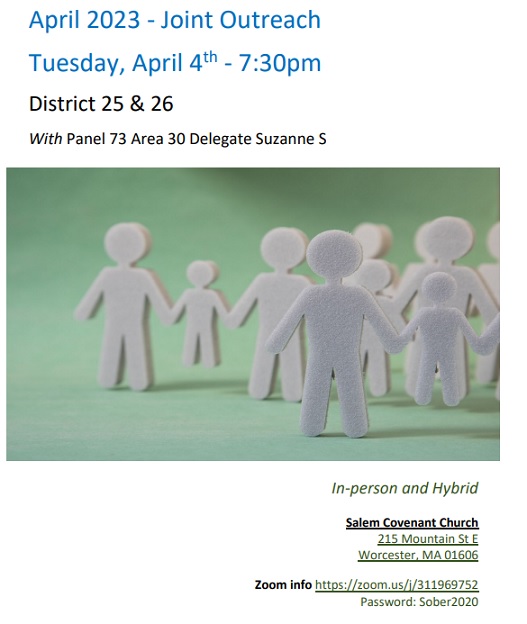 Thu Apr 6 District Meeting MOVED
District meeting 7pm Thursday April 6, in-person, phone or Zoom. This month only: Fitchburg State University McKay Complex, 67 Rindge Rd (Google map), in Room 163 in Campus "C" (see room map).

Zoom Users:
Meeting ID: 864 9984 2960
Password: 025337
Zoom Link: click here

Phone Users:
Call-in #: 646 558 8656

Conf. #: 864 9984 2960 #
Password: 025337 #

To mute or unmute your phone, press: *6
To raise hand (to speak/vote) press: *9.
Join NERF 2023 Committee
To join the North East Regional Forum (NERF) Host Committee, please fill out the volunteer form (here). NERF 2023 is being held June 2-4 in Burlington MA. Planning meetings (via Zoom) are on the third Tuesday at 7 p.m. See the calendar at aaemass.org for meeting details and see AA.org for information on regional forums.
GSR Quick Links & Resources
GSR Mobile App

There is an app for General Service Reps in District 26.
Link to GSR App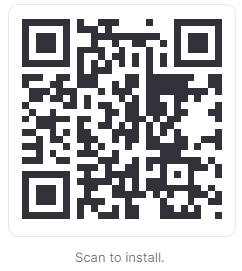 Area 30 Newsletter The Messenger
For the latest Area 30 newsletter "The Messenger", click here.
Boston CSC Secretary's Bulletin
For the latest Boston CSC monthly secretary's bulletin: click here
WAI Newsletter The Beacon
For the latest Worcester Area Intergroup newsletter "The Beacon", click here.
73rd GSC Agenda Items
A list of agenda items for the 73rd General Service Conference to be held in April 2023: click here